SouthWest Volkswagen's Satisfied Customers
John Cummings came in on Saturday evening looking to trade in his Ford truck, lucky for him Lucas Lovett was roaming around outside and found John! After a quick look around our inventory, John gave Luke a list of the items needed on his next truck! Of course Luke was up for the challenge and on Monday found the right truck for John! This will be John's 4th car with us! Thank you so much for your continuous business, John!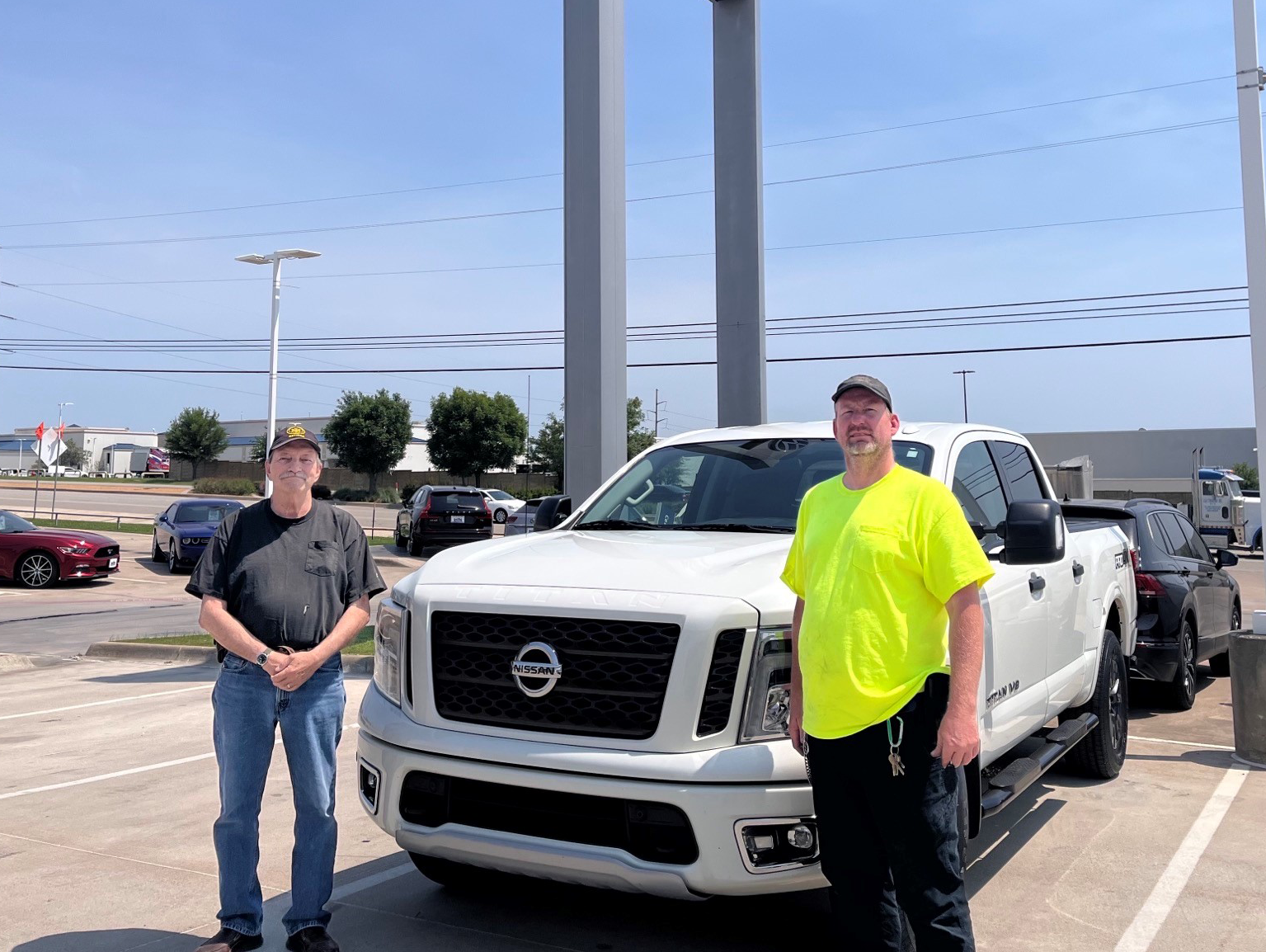 Nash was looking for a super reliable and affordable truck! Luckily, he ran into Jon Crouch! Jon went above and beyond the line of duty to find him the right truck! After a few test drives on a few of our vehicles, we finally set everything up for him! Thanks Nash for your business here at SouthWest VW!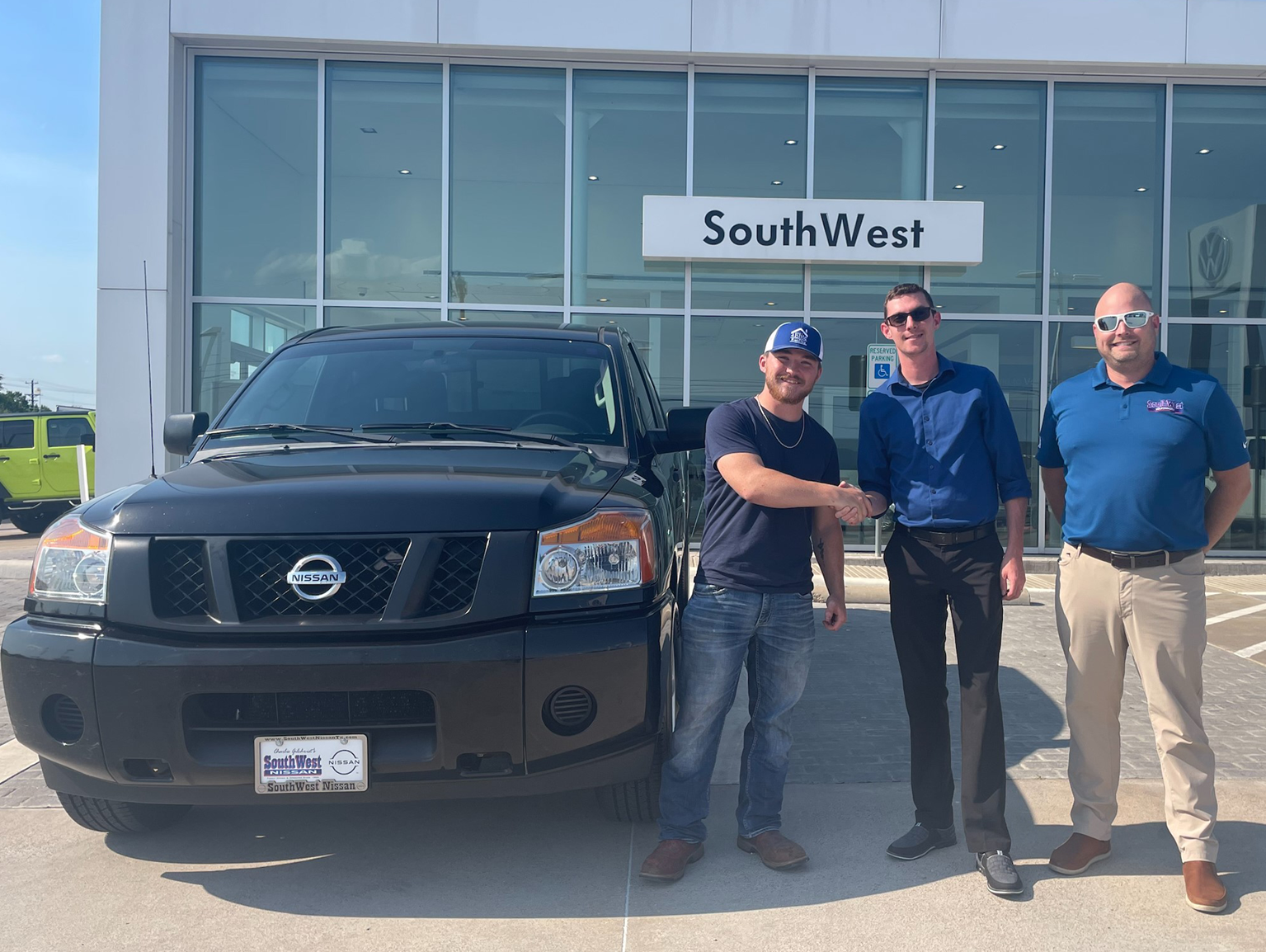 Baudelio came down to SouthWest Volkswagen from Fort Worth, TX and worked with Sales People Lucas Lovett and Rachel Dover. After a few minutes of car selection, Lucas found Mr. Patino two AMAZING deals on a Tiguan and Passat! Of course, Baudelio could not pass these deals up, after a short presentation, Mr. Patino was ready to sign on the dotted line! Thank you so much for your business, Mr. Patino!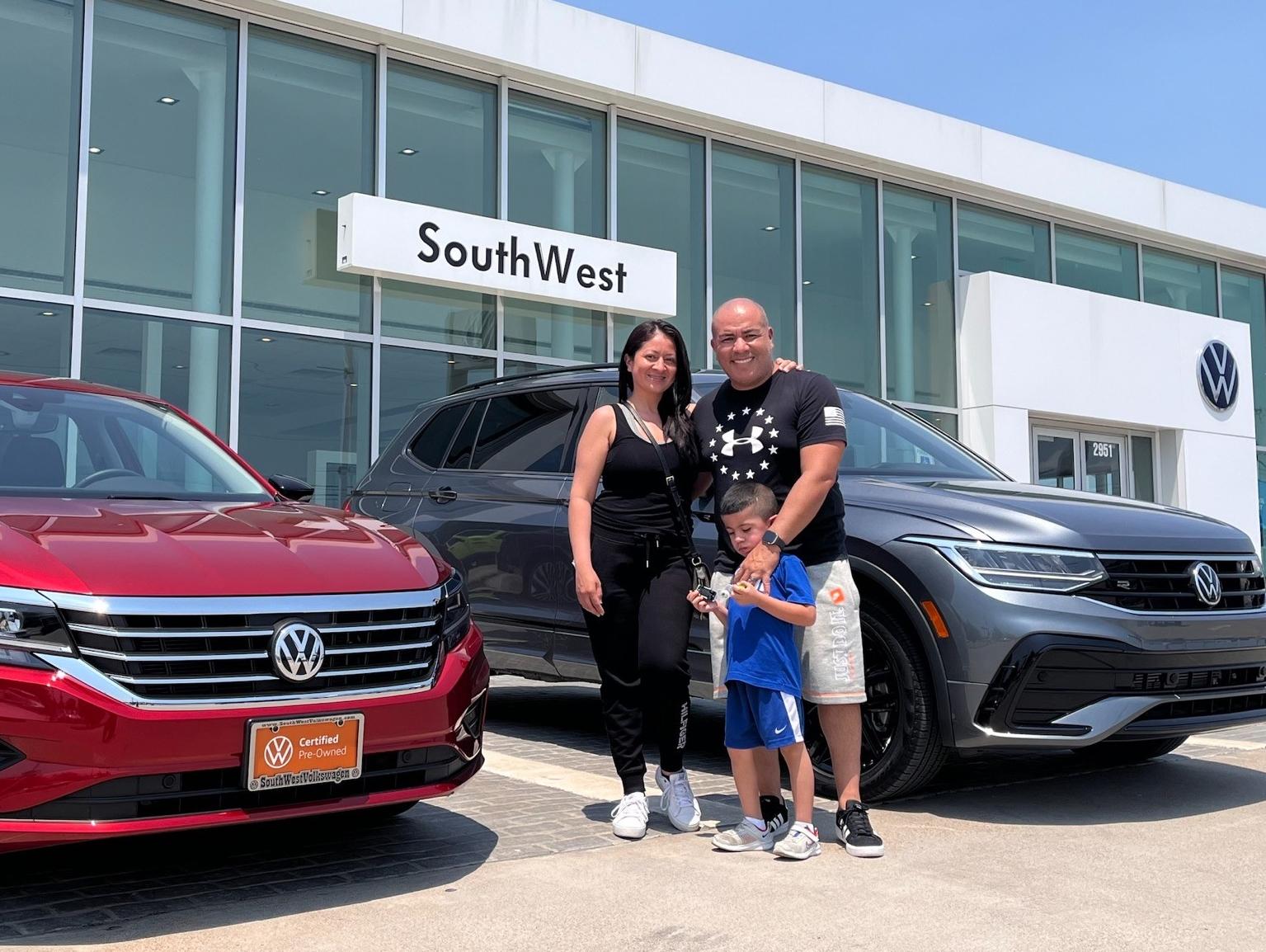 Tresa Jones-Green called in asking if we had any Tiguan's, us being VW of course we had some! After her flying down here in her Tesla and a little bit of investigative work, we landed on an Atlas Cross Sport! The reason behind her wanting a Tiguan was more for the space, but the Cross Sport had that and more! She fell in love with it and after a little bit of negotiation with the bank we even beat her rate and flung her first payment until 3 months from now! Tresa worked with Salesperson Brandon Ramirez. Thanks again, Tresa!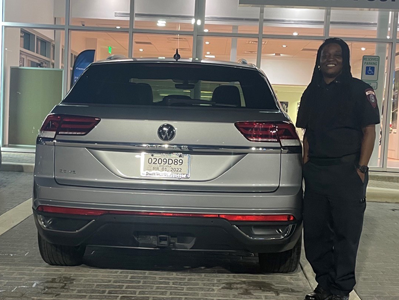 Juan Alvarez came in and worked with Salesperson Brandon Ramirez looking for a cheap reliable vehicle for his daughter who just leveled up into college! After a few questions, we found the absolute perfect unit for him and his daughter! We did all the leg work for him and his daughter while they figured out exactly where they wanted to be budget wise and made everything work out! Once they figured out exactly where they wanted to be we wrapped everything up for them ASAP!



Randy Roberts came in on the 27th of April to look for the best deal on a vehicle that we possibly could have! After spending a little bit of time inside figuring out what his needs and wants were, we landed on this AWESOME 2019 Jetta that was traded in by one of our customers in the service department! After one quick test drive, we deduced that this vehicle was the one for him! After what was the quickest turn to finance, Randy was in and out in ONLY 45 minutes after the test drive! Talk about speed and efficiency!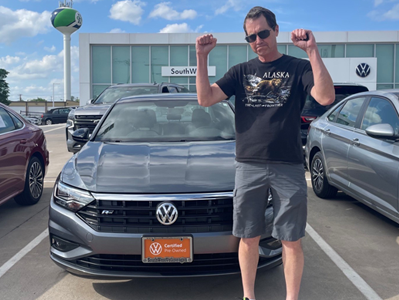 Michelle Acosta is from Weatherford, Texas. She came in with her dad to find the perfect fit and left with this beautiful Pyrite Silver SE Taos with the help of SouthWest Volkswagen salesperson Brandon Ramirez! Thanks again, Michelle and enjoy your new vehicle!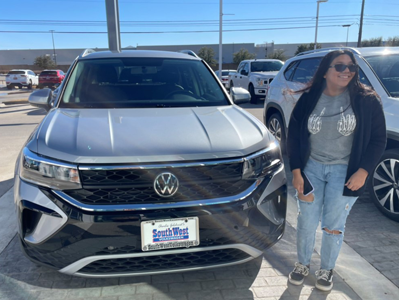 Juanita Came from Azle , "just looking for an amazing deal"! After looking at various Pre-Owned Atlas, we found the perfect NEW Atlas for her after it pulled into the front of the store! After what was one of the fastest purchases she has ever had, she left in her New Atlas with tons of smiles!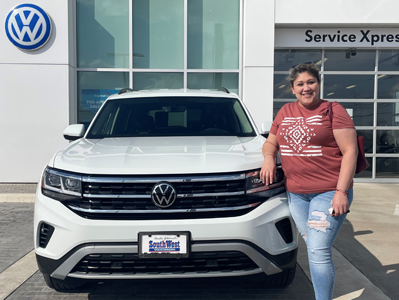 Denise placed a lead on a Tuesday night, we spoke on the phone and told me that she was given the run around at a ton of different dealerships! After we spoke a bit, she told me she was looking to surprise her husband Erich with a new car! After what was one of the absolute easiest purchases for them, getting all paperwork and payments worked out before they came in! Erich drove the car and had to absolutely have it! Definitely one for the books an absolute pleasure working with the Guzman family!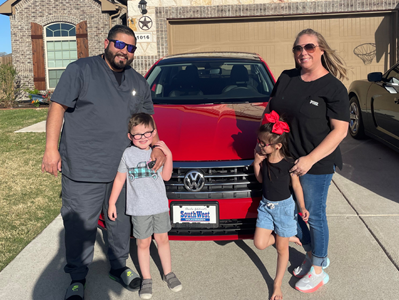 This happy customer is Christine Clutterbuck from Bedford, Texas. She traded in her 2014 Corvette convertible and purchased a 2022 VW Tiguan for her growing family with the help of SouthWest Volkswagen Sales Person, David LeBrun. Thanks again, Christine and we hope you love your new vehicle!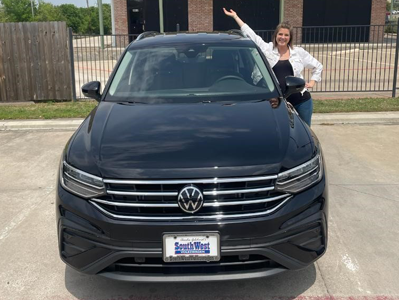 Bradley and Laci Hehn! They came in yesterday to look at our 2021 GMC Yukon. Bradley said he had been looking practically all over the world for this vehicle! The one we had met every single requirement that he was looking for! They worked with SouthWest Volkswagen Sales Person Brandon Ramirez. Thank You, Hehn Family! Enjoy Your SUV!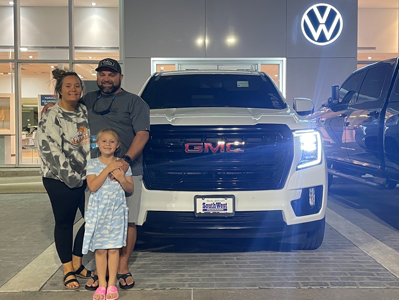 Branden Jacobs phoned up to the store asking for the availability on our 21 Alfa Romeo Stelvio! Luckily for him, our vehicle was still available! After a quick test drive around Lake Weatherford, Branden found himself loving our car! Having all the financing figured out before coming to the store, all we had to do was plug in the numbers for him! Fastest deal he has ever done! Brandon worked with SouthWest Volkswagen Sales People Brandon Ramirez and Rachel Dover.